Children in the Rite of Christian Initiation of Adult (RCIA) Process
01/27/2018 09:00 AM - 02:00 PM ET
Description
Children in the Rite of Christian Initiation of Adult (RCIA) Process
The Rite of Christian Initiation of Adults requires a different approach than mainstream faith formation. In this workshop, we will consider the RCIA process adapted for children, identify who belongs in the process and model effective sessions for children and their families. The main resources for this workshop will be the Rite of Christian Initiation of Adults and Children of the Light.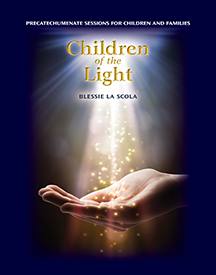 Speaker: Blessie Scola
Since 1978, Blessie La Scola has been active in the areas of catechesis, sacramental preparation, and faith formation through the process of Christian initiation. She served as master catechist for the diocese of San Jose for more than 25 years, and served adults, youth, and children in the RCIA process for 22 years. She served on the Catechumenate Committee for the Diocese of San Jose for 20 years, and has mentored lay leaders in the diocese in implementing or developing the RCIA process in their parish. She is the author of Mystagogia: A Journey into Mystery and RCIA and You: Experiences and Ideas for the Process, published by Resource Publications, and Children of the Light: Precatechumenate Sessions for Children and Families, published by World Library Publications, the music and liturgy division of the J.S. Paluch Company, Inc.
A limited number of translation devices are available for this event. If you plan to attend and need a device, please contact Benedict Esposito: besposito@archatl.com
Una cantidad limitada de dispositivos de traducción estarán disponibles para este evento. Si planea asistir y necesita un dispositivo, por favor póngase en contacto con Benedict Esposito: besposito@archatl.com los mas pronto posible.
Location: The Chancery
2401 Lake Park Drive Drive
Smyrna, GA 30080
Grand Hall A and B